7 Steps To A Leaner, Healthier You
✔ Do you feel helpless when you see all of your efforts to burn fat and get leaner come to nothing - leaving you disappointed and unmotivated?
✔ Are you tired of being let down with "Weight Loss" programs that provide a short-term gain but fail to deliver on their promises long-term?
The 7 Steps To A Leaner, Healthier You course is based on Darryl's experience from his personal health struggles, his successes with clients and the latest in scientific research:
Discover 7 SIMPLE, but evidence-based steps to lose weight without 'dieting.'
Learn the most common diet 'mistakes' most people make and how to easily fix them.
Discover the one behaviour that can sabotage even the healthiest diet.
Can exercise help you to lose body fat - or is it just all about diet?
Why is sleep quality so important when it comes to body composition?
Is low-carb always the best way to lose body fat?
Over 40 tasty recipes including breakfast, lunch, dinner, sides and snacks.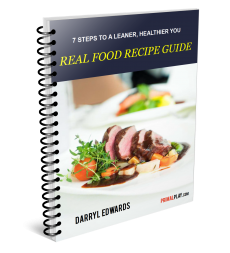 Achieve your goals by working through these seven steps - your body and health will thank you!